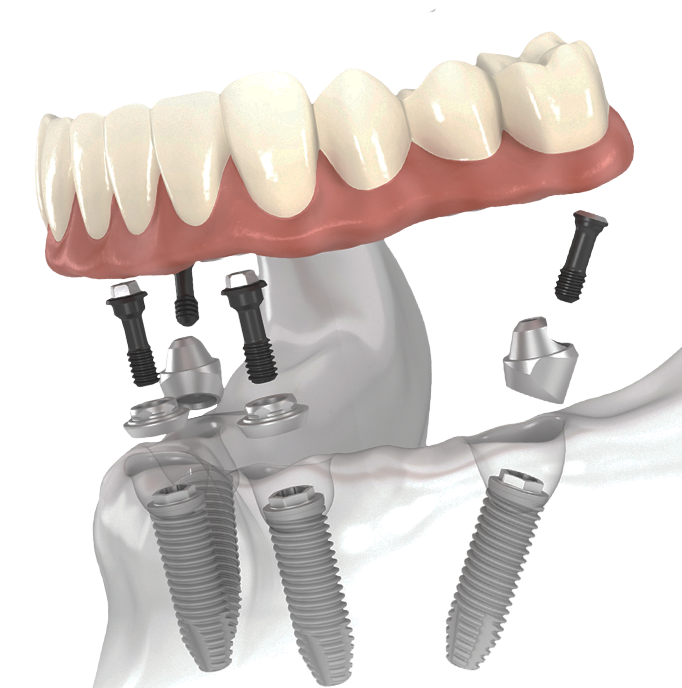 All-on-4 Dental Implants
Implant-supported dentures are the optimal treatment for a full arch of missing teeth, but you may not qualify for traditional implants.
At Bell Dental, our dentists can restore your smile using only four implants for an affordable, functional, and aesthetic set of teeth.
So what makes All-on-4® dental implants unique?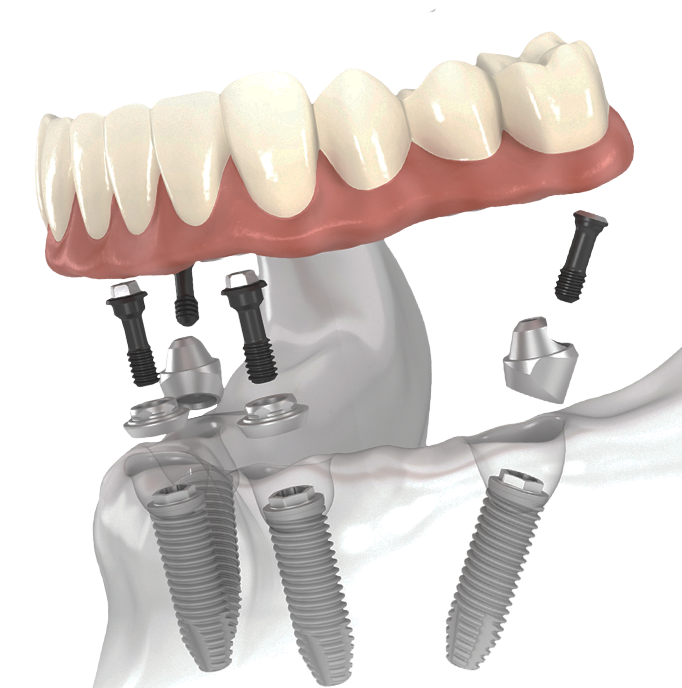 A ​Dramatically Shorter
Treatment Timeline
Fewer Implant Posts
Implant-supported dentures typically require six to eight posts for sufficient stability. The revolutionary All-on-4 method uses only four implants placed at strategic angles for maximum support.
Quicker Results
Most All-on-4 patients can receive a lifelike temporary restoration at the same time their implants are placed. This immediate placement eliminates the need for a waiting period without teeth.
What to Expect
One of the most important aspects of any dental implant procedure is recognizing and treating any significant bone loss in the patient. It is essential that the dental implants be placed on a sturdy foundation to ensure durability and longevity. Bone grafting may be suggested for patients whose bone loss is too great to support dental implants. Because of the unique techniques available for the All-on-Four™ dental implants, many patients who've suffered bone loss can benefit from the precise angle at which the implants are placed that optimizes the minimum amount of bone volume and reduces the need for bone transplantation.
Once sufficient bone has been detected or created, an All-on-Four™ patient can receive the four dental implants that will support the full-arch tooth replacement. These small, yet incredibly durable titanium screws will be surgically placed into your jawbone to mimic natural tooth roots. A temporary restoration will be placed on your new implants during the time it takes for the titanium screws to properly fuse to the jawbone. Once this healing period (called osseointegration) is complete, your permanent restoration can be put in place.
Understanding the Benefits
Having a full set of teeth offers both aesthetic and oral health benefits. Because your smile is such an important mode of expression, feeling confident in the way your teeth look makes a big difference for your self-esteem. All-on-Four™ dental implants can help you laugh, speak, and smile without hesitation.
If you're missing most or all of your teeth, it may be difficult - even painful - to chew and eat. Speaking normally can be a struggle, and properly cleaning your gums can become quite the chore. By replacing your missing teeth with prosthetics, you'll have a second chance to rejuvenate your healthy smile.
Are You a Candidate for All-on-Four™ Dental Implants?
Although most patients with missing or severely decayed or damaged teeth are candidates for All-on-Four™ dental implants, the quality and volume of your jawbone and soft tissues can affect your candidacy. Scheduling a consultation with Dr. Bell or Dr. Crocker is the best way to determine whether or not dental implants are right for you.
The Bell Dental Philosophy
Choosing our Lake Jackson practice for your restorative dentistry and All-on-Four™ dental implant needs means choosing experience, education, and excellence. Our doctors, hygienists, and staff members are incredibly knowledgeable, highly trained. Drs. Bell and Crocker are capable of performing complex and invasive procedures with simplicity and precision. With financing options available to all our patients, Bell Dental is committed to providing this life-changing procedure at a reasonable cost.